Only For Residents and Citizens of United States, 40% Discount On Nile Cruise Price
Oberoi Nile Cruises
Are Oberoi Nile Cruises really expensive? Oberoi Nile Cruises are among the most luxurious cruises in Egypt. Oberoi Chain operate only 2 Boats on the river Nile (The Oberoi Philae and The Oberoi Zahra). Both Cruises have their own tours program that differentiate them from all other Cruises in Egypt. The itinerary for both Cruises has more tours and visits then other Nile Cruises. The Total Sailing Hours during the trip are the longest on the Nile. The Food onboard Oberoi Nile Cruises is excellent in variety and in taste. Both Cruises are well decorated with modern furniture. The Cabins are large in size with very comfortable beds and offer very good view on the Nile.

The Oberoi Philae has been rebuilt from scratch. However, they embedded the Outside balcony on the old Cruise to the Cabin to make it larger and replace it with a new French style balcony (we loved the old One more). The Oberoi Zahra is considered as a Boutique Cruise. It has only 27 Cabins and Suites. Normally the Cabin in Oberoi Zahra is considered as Suite in Other Cruises.

The Downside in Oberoi Nile Cruises is that they are the most expensive Cruises in Egypt. But if you can bear the cost of one of Oberoi Nile Cruises go for it without hesitation and you will never regret. Please Note that Children below 7 Years old are not allowed onboard Oberoi Nile Cruises.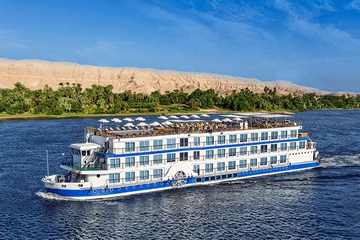 Oberoi Philae Nile Cruise
Price From: 370 USD
Click here for more details ...

Oberoi Philae Nile Cruise has an Official Rating of 5 Stars. In Our Rating we consider it as Ultra Luxury Nile Cruise. There are 58 Cabins on board the cruise. The Average Cabin Size is 22 Square Meter. All Cabins are Main or Upper Deck. Each Cabin of Oberoi Philae Nile Cruise has its own Balcony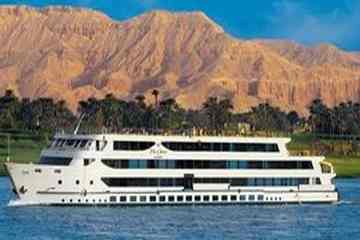 Oberoi Zahra Nile Cruise
Price From: 370 USD
Click here for more details ...

Oberoi Zahra Nile Cruise is an All Suites Cruise. It has an Official Rating of 5 Stars. In Our Rating we consider it as Ultra Luxury Nile Cruise. There are 27 Suites on board the cruise. The Average Suite Size is 22 Square Meter. All Suites are Main or Upper Deck. Each Suite of the Oberoi Zahra Nile Cruise has a Large Window