Tour To Philae Temple
Philae Temple was dismantled and moved to nearby Agilkia Island as part of the UNESCO Nubia Campaign project due to the construction of the High Dam. Philae is one of the burying-places of Osiris in the Egyptian myth, it was held in high reverence both by the Egyptians to the north and the Nubians to the south. The islands of Philae were not, however, merely sacerdotal abodes; they were the centers of commerce also between Meroë City and Memphis. For the rapids of the cataracts were at most seasons impracticable, and the commodities exchanged between Egypt and Nubia were reciprocally landed and re-embarked at Philae island... Read More

The most ancient temple in Philae is dedicated for Isis. In front of the propyla were two colossal lions in granite, behind which stood a pair of obelisks, each 13 metres (43 ft) high. The propyla were pyramidal in form and colossal in dimensions. One stood between the dromos and pronaos, another between the pronaos and the portico, while a smaller one led into the sekos or adyton. At each corner of the adytum stood a monolithic shrine, the cage of a sacred hawk. Of these shrines one is now in the Louvre, the other in the Museum at Florence.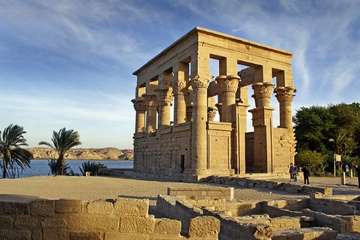 What Included / What Excluded
Included in the Tour Price:
* Pick up services from your hotel & return
* All transfers by a private air-conditioned vehicle
* Private Egyptologist guide
* Entrance fees to all the mentioned sites
* Bottled water during your trip.
* All taxes & service charge

Excluded From the Tour Price:
* Any extras not mentioned in the itinerary
* Tipping

Please Note:
* In case of pick up from Aswan West Bank, The Nubian Village there will be a supplement 10$ per person.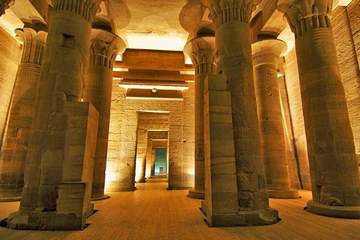 Tour Rates in USD
| | |
| --- | --- |
| Solo Traveler | 130 USD Per Person |
| 2 Persons | 80 USD Per Person |
| 3 Persons | 75 USD Per Person |
| 4 Persons | 75 USD Per Person |
| 5 Persons | 60 USD Per Person |
| 6 Persons | 55 USD Per Person |
| Child up to 5.99 Years Old | Free of Charge |
| Child From 6 to 11.99 Years Old | 50% of Adult Rate |
| Child More than 12 Years Old | Same as Adult Rate |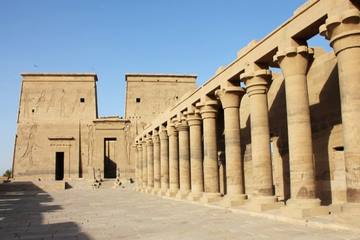 Tour Discription
Duration: 4 Hours
Starting Point: Your Hotel or Your Nile Cruise at Aswan
Ending Point: Your Hotel or Your Nile Cruise at Aswan

Your tour Guide will meet you at your hotel or your Nile Cruise at Aswan then escort you with Private Air-conditioned Tourism Car to visit Philae Temple which considered as one the most beautiful Temples in Egypt. To go there, you will Take the motor boat to an island in the middle of the Nile. Philae is an approximate Greek rendering of the local name Pilak known from hieroglyphic texts and which may be Nubian in origin.

Also, you will have the chance to get an optional City tour with Horse Carriage Car where you can explore Aswan City, the Bazzars and the local coffee shops.