Only For Residents and Citizens of United States, 40% Discount On Nile Cruise Price
Karim Nile Cruise
How Good is Karim Nile Cruise? This is one of very few Historical Cruises in Egypt. Karim Nile Cruise has an Official Rating of 4 Stars. In our Rating, we consider it as Historical Nile Cruise in Egyptian Standards. There are 15 Cabins on board the cruise. The Average Cabin Size is 20 Square Meter. Some Cabins are at the Lower Deck. Each Cabin of the Karim Nile Cruise has a Large WindowA Nile River Cruise is an unforgatable experience.... Read More

Location/Site Operating 7 nights Nile cruises out of Aswan. Boat offers This historic vessel was originally used by King Fouad I of Egypt and later on by his son King Farouk. Later on S/S Karim hosted late Presidents Gamal Abd El Nasser and Anwar El Sadat with wife Gehan. Still powered today by its original 1917 steam engine and stern quarter wheel paddles the S/S Karim today combines the comfort of the modern era with the grandeur of the bygone past. 12 double/twin and 3 Royal cabins sized between 15 and 20 sqm, all over-viewing the Nile, individually adjustable air conditioning, mini-bar, Sat-TV (when boat is docked), internal telephone, prefab. bathroom unit with shower/WC.Facilities The boat is decorated in a period style with many subtle reminders of the distinguished past. 24-hour reception desk with safe box and Forex service. Cozy lounge bar and library. Lounge. Lower sun terrace provides a shaded area and the upper deck has sun loungers, a Jacuzzi pool and is home for the ship's steam funnel with original working ship's steam whistle. Outlets With 32 covers the elegant dining room allows for dining in one sitting and provides an intimate setting (international as well as national and' local dishes). Lounge and sun deck bar. Technical Data Length: 48 m; width 15 m; draught 1.4 m. (Waste) water purification system, fire-proof and sound proof walls and ceilings. Approved by the American Bureau of Shipping.
Rates in USD
Click here for more details...

Double
Single
Triple
Summer

385

250

577

375

380

245

Winter

446

290

669

435

441

285

Peak Periods

754

490

1131

735

749

485


*Rates are Per Person Per Night in USD

*Rates Include Breakfast, Lunch & Dinner
*Rates Include Tours as Per Nile Cruise Programs
*Peak Periods are Christmas, New Year & Easter

*To Get a Guarranteed Upper Deck Cabins or Suites a Supplement must be paid in addition of the Cruise Price

*Double Means Per Person in Double Cabin
*Single Means One Person in Single Cabin
*Triple Per Person in Triple Cabin
*Triple Cabin is a Normal Double Cabin + Extra Bed or Sofa Bed

*Accepted Currency: USD, EUR & GBP

*Accepted Method of Payment: Cash & Credit Cards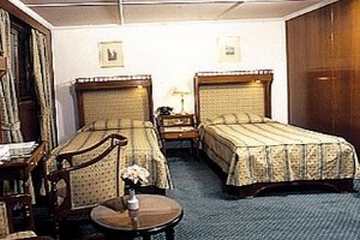 Quick Facts
Click here for more details...

Official Rating
4 Stars
Our Rating
Historical Nile Cruise
Number of Cabins
15 Cabin
Average Cabin Size
20 Square Meter
Lower Deck Cabins?
Yes. Some Cabins
Cabin has Balcony?
No. Only Large Window

*Official Rating is the Rating obtained from the Egyptian Tourism Authority. However, This is Not the Only Factor that affect the Cruise Quality.
*Average Cabin Size include Bathroom
*Karim Nile Cruise could be Totatly chartered or Out of Service for Maintenance in some Dates.
*Karim Nile Cruise Could be Sold Exculsively for some Nationalities. So, we have to check if it is available for your Nationality or Not before confirming your booking.

*Check in Time: At 12 Noon
*Check Out Time: At 9 in the Morning

*Available Languages: English, German, Spanish, French, Italian, Russian & Arabic.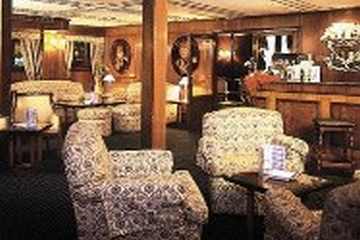 Children Policy
Click here for more details...

Baby Below 2 Years Old
Free of Charge
Child 2 to 12 Years Old
50% of Adult Rate
Child 12 Years Old or More
Full Adult Rate
Maximum Number of Children in Cabin
1 Child Sharing 2 Adults
2 Children Sharing 1 Adult
2 Children in Seperate Cabin
Same Rate as 1 Adult in Single Cabin
1 Child and 1 Adult in One Cabin
Same Rate as 2 Adults in Double Cabin
Karim Nile Cruise Main Amenity Features
Meals on Full Board Basis (Breakfast, Lunch & Dinner), Gift shop, Laundry service, Room service, Spa, Sauna, Hot tub, Massage, Steam room, Outdoor pool, Restaurant, Bar / Lounge, Express check out, Air-conditioned, 24hr front desk, Safe, Storage available, No smoking, Hairdryer, Cable or satellite TV, Internet, Pets not allowed