Only For Residents and Citizens of United States, 40% Discount On Nile Cruise Price
Crown Jewel Nile Cruise
How Good is Crown Jewel Nile Cruise? Crown Jewel Nile Cruise has an Official Rating of 5 Stars. In our Rating, we consider it as Luxury Nile Cruise in Egyptian Standards. There are 80 Cabins on board the cruise. The Average Cabin Size is 20 Square Meter. All Cabins are Main or Upper Deck. Each Cabin of the Crown Jewel Nile Cruise has a Large WindowA Nile River Cruise is an unforgatable experience.... Read More

Our elegant Nile cruise ship carries travellers in comfort and luxury. For those who want to see the natural beauty and ancient wonders of Egypt, this is a truly relaxing way of experiencing this. We offer so many ways to fill your day. You can take a dip in the pool on the large sundeck overlooking the River Nile, or simply relax as the world of the Nile glides by. There are excursions to famous archeological sites which provide you with the opportunity to see Egypt s awesome pharaonic heritage. On board the River Nile cruise ship, our dedicated staff cater to your preferences.Accommodation is on a full board basis with daily tea time service. Aboard the Nile cruise ship, you will find a large, luxurious bar and lounge where you can enjoy a variety of entertainment programs and folkloric shows in the evening. The spacious restaurant room can accommodate all passengers at one seating.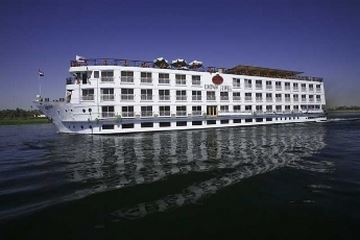 Rates in USD
Click here for more details...

Double
Single
Triple
Summer

200

130

300

195

195

125

Winter

231

150

346

225

226

145

Peak Periods

277

180

415

270

272

175


*Rates are Per Person Per Night in USD

*Rates Include Breakfast, Lunch & Dinner
*Rates Include Tours as Per Nile Cruise Programs
*Peak Periods are Christmas, New Year & Easter

*To Get a Guarranteed Upper Deck Cabins or Suites a Supplement must be paid in addition of the Cruise Price

*Double Means Per Person in Double Cabin
*Single Means One Person in Single Cabin
*Triple Per Person in Triple Cabin
*Triple Cabin is a Normal Double Cabin + Extra Bed or Sofa Bed

*Accepted Currency: USD, EUR & GBP

*Accepted Method of Payment: Cash & Credit Cards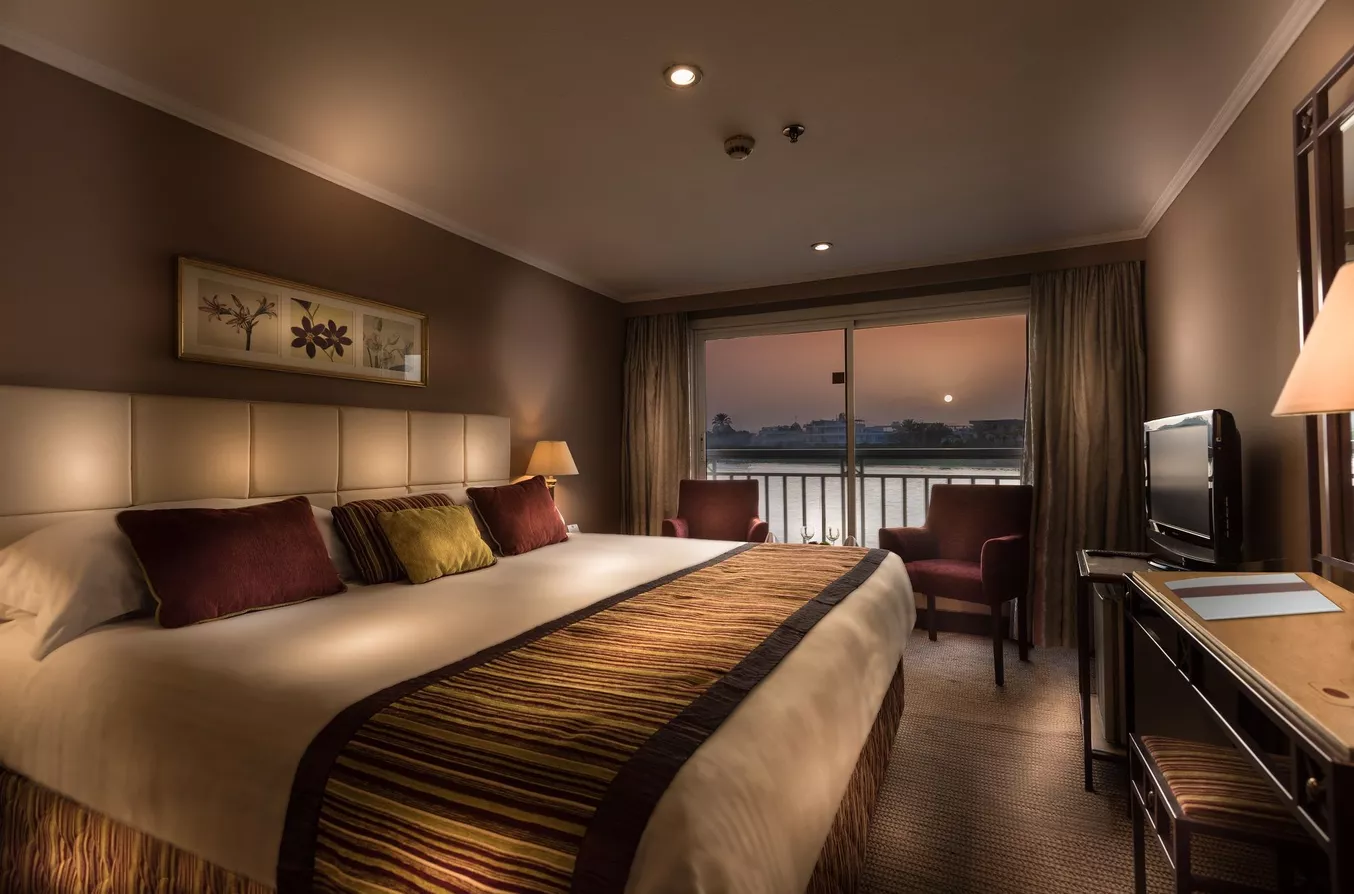 Quick Facts
Click here for more details...

Official Rating
5 Stars
Our Rating
Luxury Nile Cruise
Number of Cabins
80 Cabin
Average Cabin Size
20 Square Meter
Lower Deck Cabins?
All Cabins Main or Upper Deck
Cabin has Balcony?
No. Only Large Window

*Official Rating is the Rating obtained from the Egyptian Tourism Authority. However, This is Not the Only Factor that affect the Cruise Quality.
*Average Cabin Size include Bathroom
*Crown Jewel Nile Cruise could be Totatly chartered or Out of Service for Maintenance in some Dates.
*Crown Jewel Nile Cruise Could be Sold Exculsively for some Nationalities. So, we have to check if it is available for your Nationality or Not before confirming your booking.

*Check in Time: At 12 Noon
*Check Out Time: At 9 in the Morning

*Available Languages: English, German, Spanish, French, Italian, Russian & Arabic.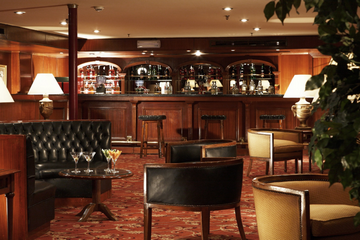 Children Policy
Click here for more details...

Baby Below 2 Years Old
Free of Charge
Child 2 to 12 Years Old
50% of Adult Rate
Child 12 Years Old or More
Full Adult Rate
Maximum Number of Children in Cabin
1 Child Sharing 2 Adults
2 Children Sharing 1 Adult
2 Children in Seperate Cabin
Same Rate as 1 Adult in Single Cabin
1 Child and 1 Adult in One Cabin
Same Rate as 2 Adults in Double Cabin
Crown Jewel Nile Cruise Main Amenity Features
Meals on Full Board Basis (Breakfast, Lunch & Dinner), Gift shop, Laundry service, Room service, Spa, Sauna, Hot tub, Massage, Steam room, Outdoor pool, Restaurant, Bar / Lounge, Express check out, Air-conditioned, 24hr front desk, Safe, Storage available, No smoking, Hairdryer, Cable or satellite TV, Internet, Pets not allowed