Only For Residents and Citizens of United States, 40% Discount On Nile Cruise Price
Nile Style Nile Cruise
How Good is Nile Style Nile Cruise? Nile Style Nile Cruise has an Official Rating of 5 Stars. In our Rating, we consider it as Ultra Luxury Nile Cruise in Egyptian Standards. There are 80 Cabins on board the cruise. The Average Cabin Size is 20 Square Meter. All Cabins are Main or Upper Deck. Each Cabin of the Nile Style Nile Cruise has a Large WindowA Nile River Cruise is an unforgatable experience....

M/S Nile Style, considered to be one of the largest but yet very personal, and most luxurious vessels on the Nile. Embark on an unforgettable journey to an ancient past where incredible treasures are abound along the banks of the river Nile. Relax in the spa pool or shop at the gold and gift shop on board. With a total of 80 cabins, all sublimely furnished, the Nile Style has a light and modern feel. These cabins are located on the upper decks, and boast glorious Nile views. Windows reach from one side of the cabin to the other and as far down as knee height, creating a panoramic frame by which to watch the Nile lazily slip by. Spacious and airy they are excellently furnished and offer 3x.6.5m of comfort and space. Plenty of storage space is provided for your convenience. Along with an abundance of other facilities such as mini fridge with bar, TV with live web cams featuring various parts of the ship, safety deposit box, individually controlled thermostat and music system. Sumptuous material is used throughout using a black and white theme. Egyptian cotton sheets dress an oversized bed and are changed daily. En-suite bathrooms, imported from Italy are perfectly appointed with step-in shower, WC and vanity unit with towels being changed twice daily. The Nile Style does tick all the boxes in creating an ideal living space to enhance your week on the Nile. The ships striking, light modern design of the sweeping staircases and reception area fades into the relaxed ambience of the onboard bar and entertainment lounge. This is the ideal location, with panoramic windows to sit back and enjoy a drink or two. The lounge has a modern plush wine bar feel and look, with fantastic wooden floors. Sofas and armchairs make up the seating either at the bar, or in the lounge itself. This is where all the entertainment takes part, to watch, and perhaps join in the fun. The 'Galabea' evening is truly unforgettable, ask anyone who has cruised the Nile! For something a little more sedate, enjoy a drink at one of the other bars located on each floor, the games room, or for complete peace the library. Total romantics can enjoy the sun deck bar, host to the breathtaking Egyptian sunset, which ancient kings and gods have witnessed for centuries.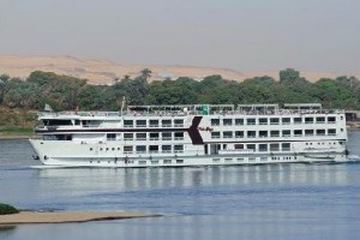 Rates in USD
Click here for more details...

Double
Single
Triple
Summer

262

170

392

255

257

165

Winter

308

200

462

300

303

195

Peak Periods

369

240

554

360

364

235


*Rates are Per Person Per Night in USD

*Rates Include Breakfast, Lunch & Dinner
*Rates Include Tours as Per Nile Cruise Programs
*Peak Periods are Christmas, New Year & Easter

*To Get a Guarranteed Upper Deck Cabins or Suites a Supplement must be paid in addition of the Cruise Price

*Double Means Per Person in Double Cabin
*Single Means One Person in Single Cabin
*Triple Per Person in Triple Cabin
*Triple Cabin is a Normal Double Cabin + Extra Bed or Sofa Bed

*Accepted Currency: USD, EUR & GBP

*Accepted Method of Payment: Cash & Credit Cards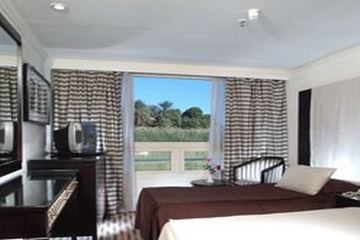 Quick Facts
Click here for more details...

Official Rating
5 Stars
Our Rating
Ultra Luxury Nile Cruise
Number of Cabins
80 Cabin
Average Cabin Size
20 Square Meter
Lower Deck Cabins?
All Cabins Main or Upper Deck
Cabin has Balcony?
No. Only Large Window

*Official Rating is the Rating obtained from the Egyptian Tourism Authority. However, This is Not the Only Factor that affect the Cruise Quality.
*Average Cabin Size include Bathroom
*Nile Style Nile Cruise could be Totatly chartered or Out of Service for Maintenance in some Dates.
*Nile Style Nile Cruise Could be Sold Exculsively for some Nationalities. So, we have to check if it is available for your Nationality or Not before confirming your booking.

*Check in Time: At 12 Noon
*Check Out Time: At 9 in the Morning

*Available Languages: English, German, Spanish, French, Italian, Russian & Arabic.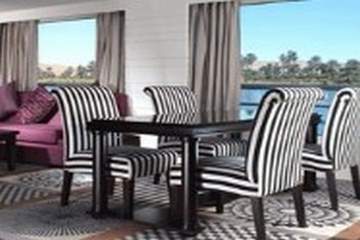 Children Policy
Click here for more details...

Baby Below 2 Years Old
Free of Charge
Child 2 to 12 Years Old
50% of Adult Rate
Child 12 Years Old or More
Full Adult Rate
Maximum Number of Children in Cabin
1 Child Sharing 2 Adults
2 Children Sharing 1 Adult
2 Children in Seperate Cabin
Same Rate as 1 Adult in Single Cabin
1 Child and 1 Adult in One Cabin
Same Rate as 2 Adults in Double Cabin
Nile Style Nile Cruise Main Amenity Features
Meals on Full Board Basis (Breakfast, Lunch & Dinner), Gift shop, Laundry service, Room service, Spa, Sauna, Hot tub, Massage, Steam room, Outdoor pool, Restaurant, Bar / Lounge, Express check out, Air-conditioned, 24hr front desk, Safe, Storage available, No smoking, Hairdryer, Cable or satellite TV, Internet, Pets not allowed