Only For Residents and Citizens of United States, 40% Discount On Nile Cruise Price
Farah Nile Cruise
How Good is Farah Nile Cruise? Farah Nile Cruise has an Official Rating of 5 Stars. In our Rating, we consider it as Ultra Luxury Nile Cruise in Egyptian Standards. There are 62 Cabins on board the cruise. The Average Cabin Size is 22 Square Meter. All Cabins are Main or Upper Deck. Each Cabin of the Farah Nile Cruise has a Large WindowA Nile River Cruise is an unforgatable experience....

Farah Nile cruise offers 60 deluxe cabins and 2 Royal Suites, where you can actually taste the fine flavor of our hospitality. In every detail from the handmade Egyptian cotton sheets to the natural dark wood furniture. All designed to tickle your senses and enhance your comfort.LobbyWelcome to 'Farah', a simple yet important message that we need to present in everything your eyes meet. Every single detail was designed to reflect the luxury of our hospitality from the hand polished Mediterranean stone floors to the spacious triple height foyer and the shiny black glass reception desk that stands like a black pearl amidst our seashell.Cabins AccommodationAll Cabins and suites are equipped with LCD TV, mini bar, private safe box, internet connection, a private bathroom (with bathtub, hairdryer) and an individual control for the central air conditioner. For your safety, a smoke detector system panel and sprinkler are provided in all cabins and outlets of the boat.Food & BeverageIn our lavish large restaurant, our guests will have the chance to enjoy their carefully prepared and served meals. Both breakfast and lunch are offered in an open buffet, and the dinner will be a la carte. Always including special choices for the vegetarians.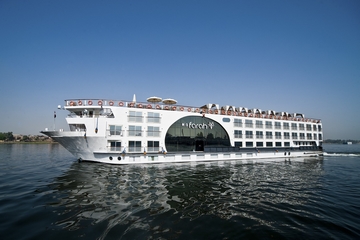 Rates in USD
Click here for more details...

Double
Single
Triple
Summer

354

230

531

345

349

225

Winter

431

280

646

420

426

275

Peak Periods

508

330

762

495

503

325


*Rates are Per Person Per Night in USD

*Rates Include Breakfast, Lunch & Dinner
*Rates Include Tours as Per Nile Cruise Programs
*Peak Periods are Christmas, New Year & Easter

*To Get a Guarranteed Upper Deck Cabins or Suites a Supplement must be paid in addition of the Cruise Price

*Double Means Per Person in Double Cabin
*Single Means One Person in Single Cabin
*Triple Per Person in Triple Cabin
*Triple Cabin is a Normal Double Cabin + Extra Bed or Sofa Bed

*Accepted Currency: USD, EUR & GBP

*Accepted Method of Payment: Cash & Credit Cards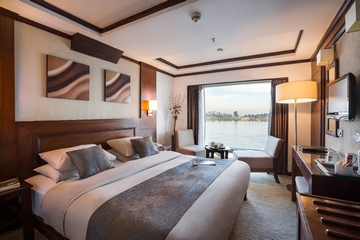 Quick Facts
Click here for more details...

Official Rating
5 Stars
Our Rating
Ultra Luxury Nile Cruise
Number of Cabins
62 Cabin
Average Cabin Size
22 Square Meter
Lower Deck Cabins?
All Cabins Main or Upper Deck
Cabin has Balcony?
No. Only Large Window

*Official Rating is the Rating obtained from the Egyptian Tourism Authority. However, This is Not the Only Factor that affect the Cruise Quality.
*Average Cabin Size include Bathroom
*Farah Nile Cruise could be Totatly chartered or Out of Service for Maintenance in some Dates.
*Farah Nile Cruise Could be Sold Exculsively for some Nationalities. So, we have to check if it is available for your Nationality or Not before confirming your booking.

*Check in Time: At 12 Noon
*Check Out Time: At 9 in the Morning

*Available Languages: English, German, Spanish, French, Italian, Russian & Arabic.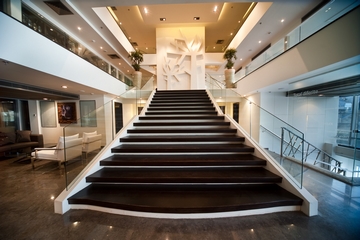 Children Policy
Click here for more details...

Baby Below 2 Years Old
Free of Charge
Child 2 to 12 Years Old
50% of Adult Rate
Child 12 Years Old or More
Full Adult Rate
Maximum Number of Children in Cabin
1 Child Sharing 2 Adults
2 Children Sharing 1 Adult
2 Children in Seperate Cabin
Same Rate as 1 Adult in Single Cabin
1 Child and 1 Adult in One Cabin
Same Rate as 2 Adults in Double Cabin
Farah Nile Cruise Main Amenity Features
Meals on Full Board Basis (Breakfast, Lunch & Dinner), Gift shop, Laundry service, Room service, Spa, Sauna, Hot tub, Massage, Steam room, Outdoor pool, Restaurant, Bar / Lounge, Express check out, Air-conditioned, 24hr front desk, Safe, Storage available, No smoking, Hairdryer, Cable or satellite TV, Internet, Pets not allowed